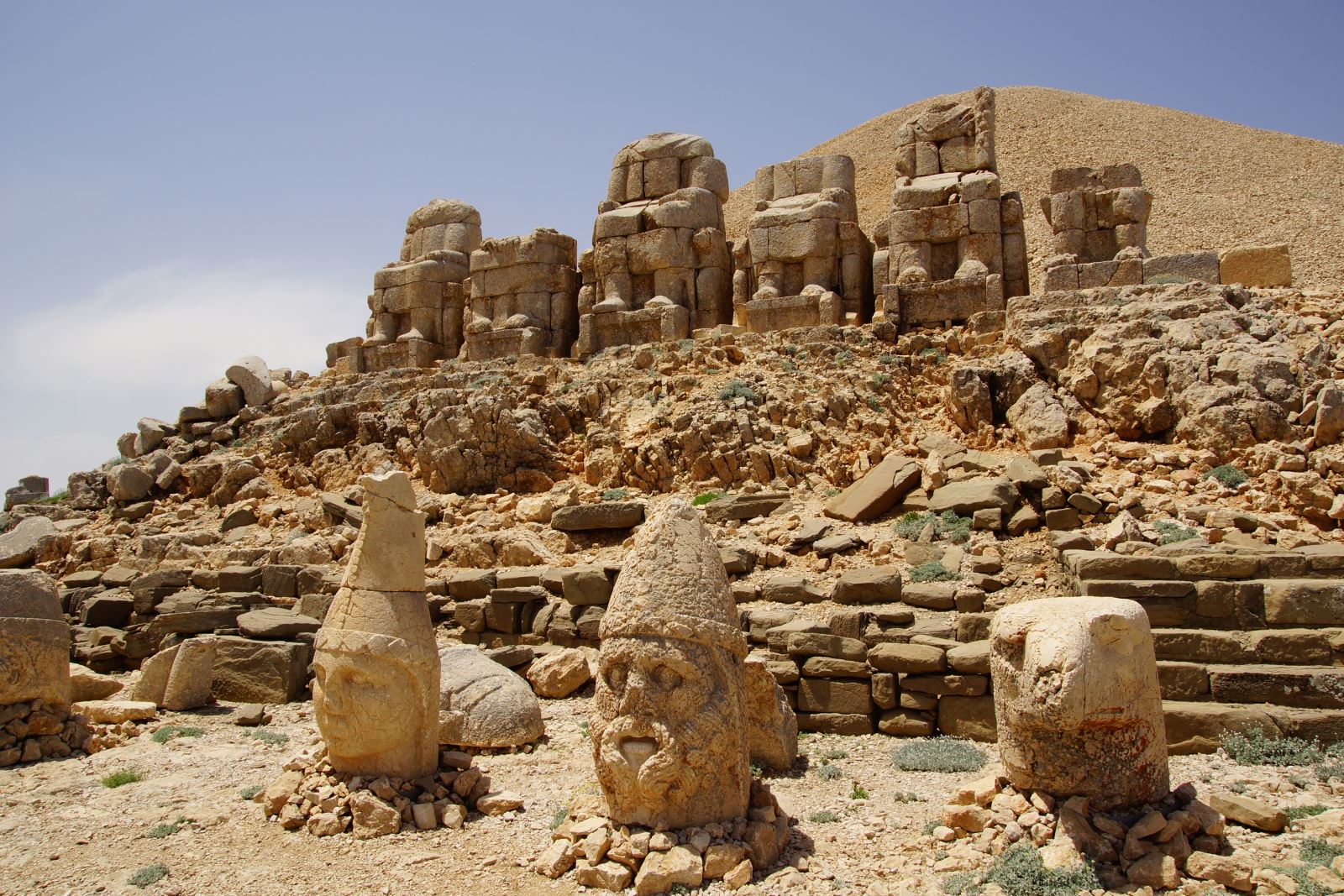 Mount Nemrut, or Nemrut Daği in Turkish, is a mountain belonging to the Eastern Taurus group and, with its 2150 m of altitude, is the highest peak in northern Mesopotamia.
On its top stands what is allegedly the sanctuary tomb of King Antiochus I of Commagene, even though no tombs were ever discovered. It was brought to light during excavations carried out by the American School of Oriental Researches directed by Theresa Goell in 1953.
It consists of a man-made stone mound, 150 m in diameter and a height of 50 m.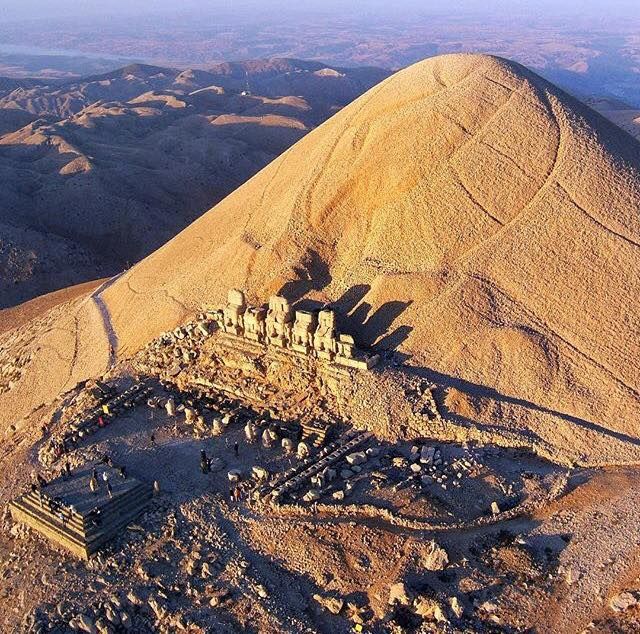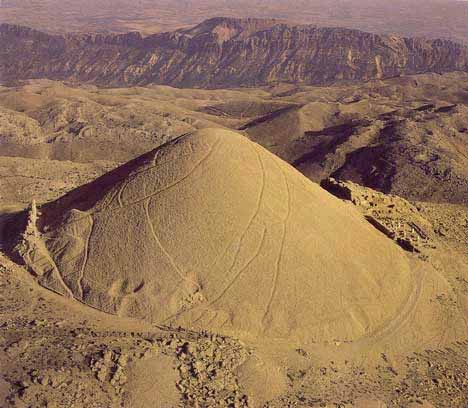 At the base are three terraces: the north terrace, the west terrace, and the east terrace form the sanctuary, with gigantic altars and statues to create an imposing scenario that reaches its peak in the light of dawn and sunset.
The statues were mysteriously beheaded and the heads placed around the incredible mound. Accepted theories maintain that the statues lost their heads because of atmospheric events such as prolonged weather exposure.
The burial site, despite several attempts, is yet to be discovered. 
The north terrace served as a meeting point for pilgrims who came up from the various roads existing on the sides of the mountain.
Colossal statues of a lion and an eagle adorned the entrance, but nothing remains today as it is the most ruined of the three terraces. The symbolism of the lion and the eagle heavily resembles the ancient Egyptian one as well as the South American one, as they were common mythological sacred figures of which we have the first examples at Göbekli Tepe.
On the west terrace lie five colossal beheaded statues of seated characters 9 meters high and, at their feet, their aligned heads allegedly depicting Antiochus I, the goddess Tyche, Zeus-Oromasde the father of the gods for Greeks and Romans, Apollo-Mithra-Helios-Ermes and Eracle-Artagnes-Mars, while the lion and the eagle close the two ends.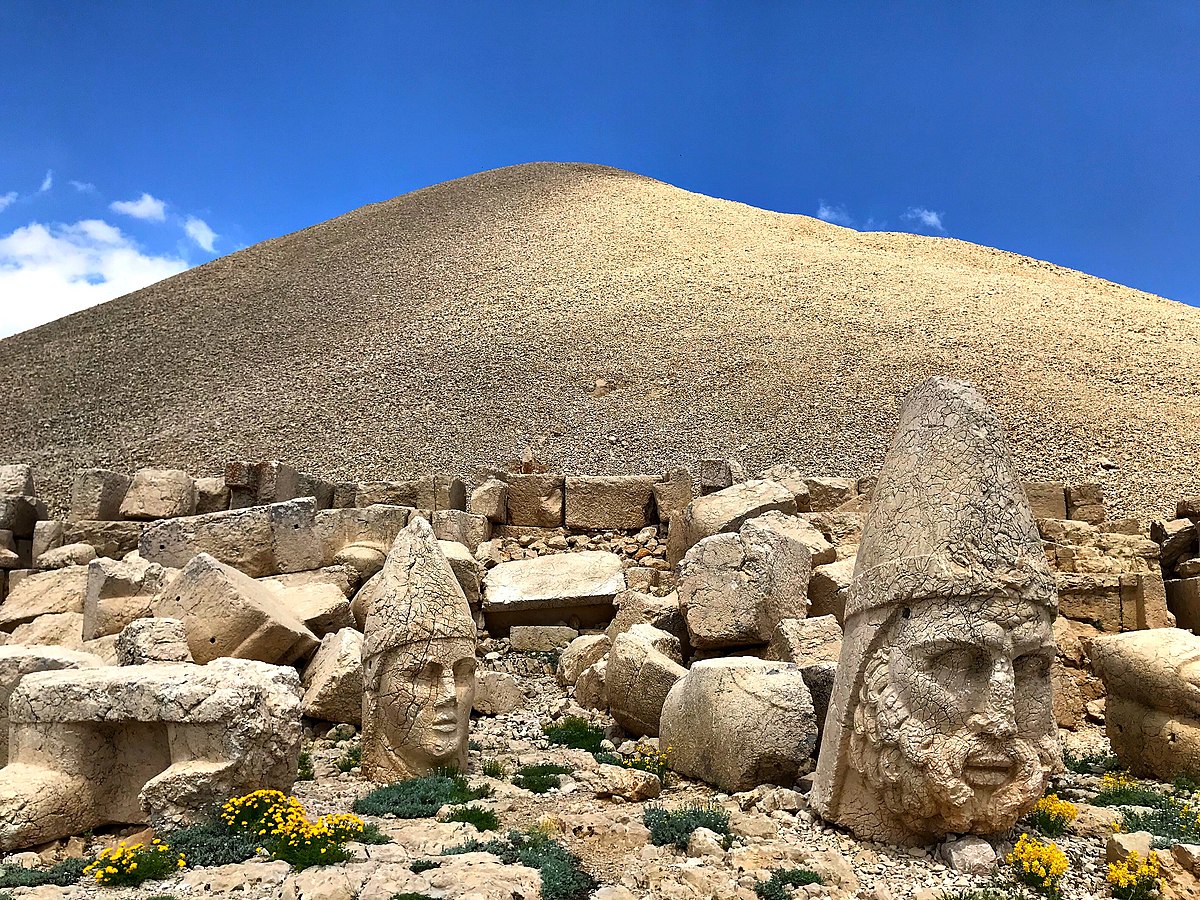 One plate depicts the so-called "astral lion" considered one of the oldest horoscopes in the world.
On the east terrace, although the headless statues are similar to those on the west terrace, their position is different. A monumental staircase leads to the altars, two lateral stairways lead to the deities placed above the altars.
The seated characters are perfectly preserved, but the heads of the statues are in poor condition. There was once a large altar placed in front of the base, which remains are perfectly visible.