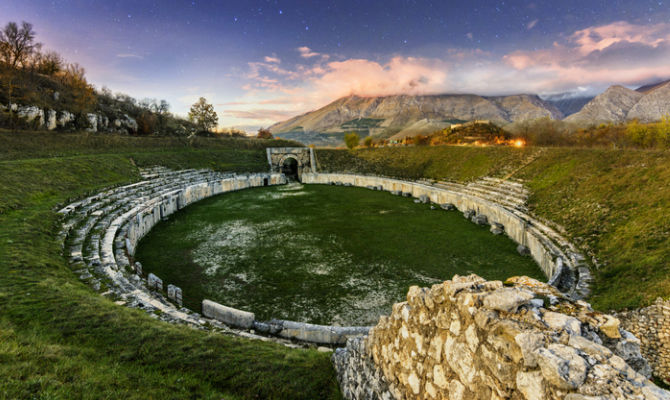 Alba Fucens is an archaeological site built in the 4th century BCE  in an elevated and well-fortified position of about 34 hectares on the slopes of Mount Velino, in the Abruzzi region.
Declared a national monument in 1902, it is located in the contemporary municipality of Massa d'Albe (AQ) close to the medieval village of Albe, a few kilometers north of the city of Avezzano.
Originally thought to have been founded by the romans themselves, there's evidence that this site was eventually reoccupied and renovated by them.
The megalithic polygonal walls and the niches in the cyclopean mortarless building style can in fact be spotted throughout the whole site.
This style is far from the constructive style adopted by the Romans. 
Moreover, despite the Romans used to meticulously record their construction processes, there's no written record about the building of Alba Fucens.
The enclosure consists of a 2.9 kilometer long polygonal megalithic wall which has largely been well preserved, as the blocks still stand perfectly set together with smooth surfaces.